Investors thrown between hope and despair
After last autumn's turbulence, the stock market year began in an upbeat mood, driven by a shift in central bank policies towards interest rate cuts and other stimulus measures. In addition, hopes that China and the United States could reach a new trade agreement fairly soon helped drive the stock market upturn. As the year progressed, earlier worries about weaker growth were increasingly confirmed, and global economic growth forecasts were lowered. Together with tougher rhetoric in the trade talks, this derailed the summer share price rally. The stock market mood is now dominated by uncertainty and defensive investor behaviour. As uncertainty rose during the summer, this year's trend towards falling bond yields accentuated greatly. Lower yields in themselves are positive for the stock market, but this time around the sharp decline from already low levels can be interpreted as a signal of increased recession risks.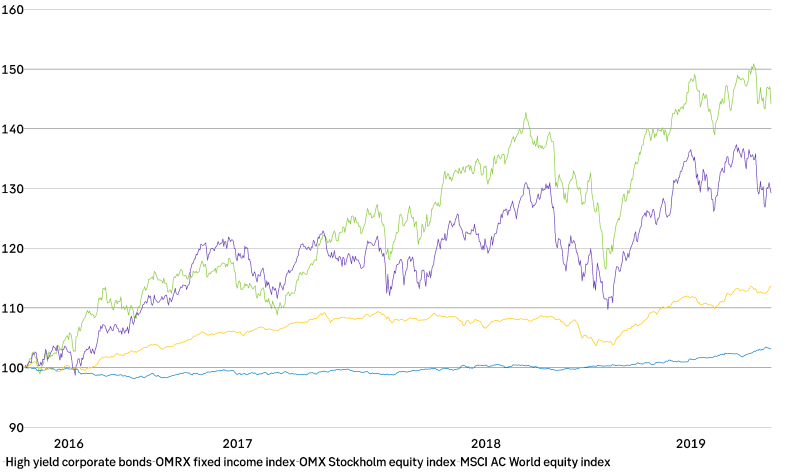 Political unrest, slowing growth = weak stock exchanges
Macro statistics show that the world economic slowdown is continuing, but the picture is much calmer than signalled by financial markets and the political arena. After a long period of growth, the economic cycle is showing signs of fatigue, especially in the US. Labour shortages and weaker world trade are squeezing manufacturing activity, while the service sector and households have so far shown resilience. We expect slower growth, but see no recession in the cards during the foreseeable future.
However, the weakness in the economy is sufficient to create question marks about future growth and corporate profit levels. Earnings forecasts have been adjusted downward, especially for cyclical industries. We (and the market) now predict unchanged earnings for the full year 2019. The consensus forecast for 2020 points to earnings increases of about 10 per cent, which we consider a bit too optimistic. In light of this, and given the strong upturn in share prices earlier this year, it is no wonder that stock exchanges are becoming more volatile.
We have reduced the risk in our investments
It will probably take time before today's question marks are resolved – given the more uncertain growth picture, and since few breakthroughs have occurred on trade issues and Brexit. There is currently a risk of continued market turmoil. In early August we thus chose to reduce the weight of equities in the portfolios we manage, and our general recommendation is to hold a slightly smaller proportion of equities than in a normal situation.
In fixed income investments, we prefer corporate and emerging market bonds
The supportive policies of central banks have benefited investments that have interest rate risk as well as credit risk. The big question is whether central banks can lower key interest rates as much as the market wishes, in order to prevent weaker economic conditions. In Sweden, this means we no longer expect key rate hikes by the Riksbank but instead foresee an unchanged repo rate both this year and next. We see some advantages in holding corporate bonds, both with lower risk (investment grade) and higher risk (high yield).
In particular, the US Federal Reserve's dovish policy stance will enable continued good performance by emerging market bonds (EM debt) for another while, although there is greater uncertainty about these than before.
EM debt performed well during the late spring and summer, thanks to relatively higher yields in emerging markets and as an effect of stronger EM currencies. Compared to other fixed income investments, however, EM debt involves relatively high risk, which calls for some caution.