Climate investments back in focus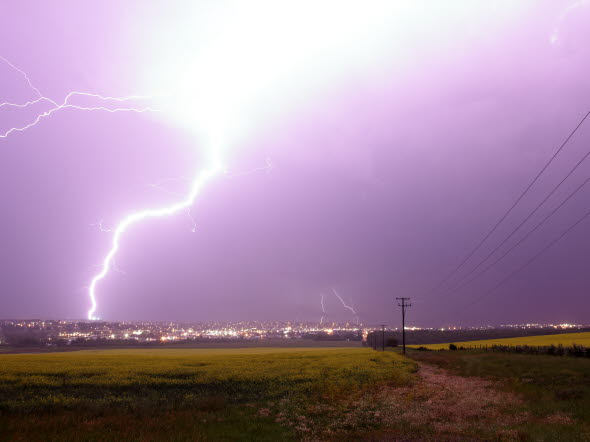 The summer of 2021 was marked by extreme weather. We saw fires and droughts in some places, torrential rains and floods elsewhere. The costs of reconstruction and lost assets will total tens of billions of dollars. Along with the IPCC's sixth report, these events may serve as a wake-up call that accelerates the transition to sustainability. But conflicts may also arise between short- and long-term perspectives – short-term reconstruction and adaptation measures risk displacing climate transition investments. We will get an initial glimpse of the outcome in Glasgow this November.

This past summer saw an unusual range of extreme weather phenomena. Extreme heat waves prevailed in North America, southern Europe and the Middle East, with temperatures nearing 50 degrees C in some places. In Central Europe and parts of Asia, the problem was instead torrential rain, storms and floods. In Zhengzhou, China, 200 mm of rain fell in one hour and a full year's rain in three days. The overall effects of natural disasters on people, nature, property and the economy are hard to assess, but even the most conservative estimates point to tens of billions of US dollars in costs.
Until recently, the connections between extreme weather events and long-term climate change have been relatively uncertain. Most researchers believed that such connections probably exist, but have preferred to express themselves cautiously in their published reports. However, many of these uncertainties were swept aside in the Sixth Assessment Report of the United Nations Intergovernmental Panel on Climate Change (IPCC), published on August 9. The report presents clear support that human activity is causing climate change and clarifies the connections between long-term climate change and extreme weather events. Even now, at 1.1 degrees of warming, we are influencing weather systems. The warmer the climate becomes, the more common and severe these weather phenomena will be, according to the IPCC.
Our experiences this past summer and the new scientific facts in the IPCC report will provide important input during the big UN climate conference to be held in Glasgow during October 31 and November 12 this year. Among other things, the IPCC points to the need for a major increase in sustainable energy investments. The transition to a temperature trend that adheres to the 1.5 degree target will require an estimated USD 3.5 trillion of investments per year, compared to the current level of around USD 500 billion per year. The question many people are now asking themselves is whether this summer's extreme events can serve as the wake-up call required to boost investment levels to the scale that the IPCC believes is needed. Perhaps, but far from self-evident.
One factor that may pull in the opposite direction is that this summer's weather disasters have also highlighted other large-scale needs, which may be perceived as even more urgent. One is reconstruction. In Germany alone, the costs of restoring devastated communities after the summer floods are estimated at over USD 35 billion. Many other countries have similar damage to repair. Another need is climate adaptation. Countries must adapt their town and city planning and emergency preparedness to increasingly extreme weather. The Netherlands, which is now investing large additional amounts on improving barriers against future flooding, is just one of many examples. Measures to protect against heat, improve fire preparedness, protect cities from floods and secure food production will require large-scale investment in the relatively near future. Such adaptation investments are estimated at USD 1.8 trillion from 2020 to 2030 – limited sums in relation to total transition costs, but still over three years of total investments at the current level.
Tough choices await …
Will there be enough money for everything? Or will the "wake-up call" effect from this summer's extreme weather be offset by the displacement effect that occurs when short-term reconstruction and adaptation investments compete with long-term climate transition investments? There are some reasons why such displacement may be significant:
The time perspective. Although the IPCC makes it clear that climate change is already contributing to extreme weather, short-term reconstruction and perhaps also adaptation, still may appear more urgent than climate transition measures. Since the value of future events, good or bad, is intuitively discounted by both decision makers and citizens, immediate problems tend to enjoy higher priority than future ones.
Politics. Whereas climate adaptation and reconstruction take place at home, climate transition investments often need to be made in other countries. This is because they have a decreasing marginal impact, and for the planet it is most effective if countries that have already come a long way in such areas as reducing greenhouse gas emissions prioritise additional investments in countries lagging behind in climate transition. Politically, however, it is easier to approve and advocate initiatives that generate clear local results and jobs than to finance initiatives in other countries. The latter may also be associated with real or perceived "free rider" problem – that some countries avoid taking responsibility because other countries will invest in them.
"Moral hazard" refers to the danger that those who are, or who feel they are, protected (for example they are convinced that government will assist if needed) will take greater risks than they otherwise would. In this context, it may mean that if large enough sums are spent to adapt to climate change, the sense of urgency to actually avoid it will diminish.
…but there is a strong willingness to invest
The above arguments should not be underestimated, but there are also counter-arguments. Although today's investments in energy conversion are only a fraction of what is needed, there is heavy demand for the products being manufactured. Many investors and asset managers want at least part of their portfolios to consist of distinctly sustainable assets. The issuance of both green (environmental and climate) and blue (water) bonds is increasing. Greater demand has also led to better tools for defining what investments can be classified as sustainable. Of these, the main tool is the European Union's new "taxonomy". It is complicated to calculate exactly how much these green tools contribute to total investments, since it is hard to say how much is "extra" money and how much would have been invested anyway. But the overall impression is that there is plenty of potential capital for investments in climate transition measures, especially if they are channelled properly and today's low interest rate environment persists.
No single country, organisation or company can raise all the money that is needed. Investment volumes will depend on whether the public and private sectors pull in the same direction, albeit with some division of responsibilities. Investments in climate adaptation, such as levees around seaside cities, are 90 per cent paid for by the public sector. Investments in climate transition, such as new energy technology, are today more than half financed by the private sector – a share that is likely to grow. During the climate transition process, it will be the public sector's responsibility to steer developments in a sustainable direction with the help of regulations, taxes and global agreements. The Glasgow climate conference will be an important indication of whether and how this summer's events have affected how politicians view their responsibility and envision the way forward.