A technological revolution in health care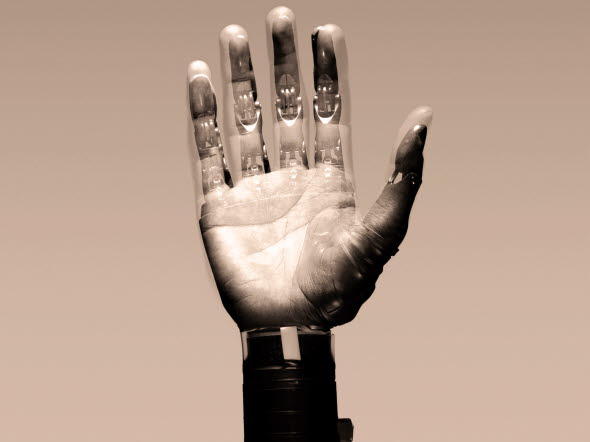 Health care is facing major global challenges, where an ageing population with greater needs and more unequal access to care must be looked after using ever-scarcer resources.
In health care technology, or "health tech", a revolution is under way. Using new technological tools, the care experience can be improved both in terms of quality and efficiency. Add to that increased computer availability and advances in artificial intelligence (AI), enabling faster, more accessible and individualised responses.
As so many times before, humankind's ability to innovate is an important driving force, which we hope and trust will solve one of the greatest social sustainability problems of our time.
This is a summary – read a longer article on pages 20-24 of the latest Investment Outlook (pdf)
A worsening health care crisis
The world's population is getting older. The older we get, the more money we spend on health care. The average cost for an 80-year-old is four times higher than for a 40-year-old. An older and older population also means that tax revenues from fewer people must finance care for more people as the workforce become a smaller share of the total.
In many ways, modern lifestyles are also harmful to health. We move less, while being exposed to more stress and eating in a more unhealthy way. The ageing population structure and our unfortunately more and more unhealthy lifestyles will contribute to catastrophic cost increases and capacity problems in health care. This is where new technology comes into the picture.
What is health tech?
Health tech is an increasingly common term for innovations, technical devices and programmes aimed at increasing the efficiency, productivity and overall quality of health care, as well as facilitating the development of new drugs and treatments.
"The quantity of health-related data is expected to have increased by 15 times in seven years"
Health tech benefits from a growing quantity of medical data that patients themselves can gather using a watch or mobile app. Sensors can help measure blood sugar in diabetics or check that a medicine has been taken in the right amount at the right time. A 2017 report from Stanford University predicted that health-related data would increase by 48 per cent yearly from 2013 to 2020, or by 15 times in seven years.
Digital patient records create new opportunities
Accuracy and confidentiality are vital in health care. This requires a very high standard of IT security. Digital solutions can minimise paperwork and automatically ensure compliance with standards for the flow of information and data storage.
Using the Internet of Things (IoT), patients can be provided with scannable ID bracelets that provide the doctor with medical record information. In addition, entire medication processes can be automated with the help of programmes that handle everything from prescriptions to physical delivery and follow-up.
Broad areas for the use of AI
With the help of artificial intelligence (AI), cancer and other potentially deadly diseases can be detected at an earlier stage, while wounds or liver spots can be photographed via mobile apps that analyse appropriate measures.
In the pharmaceutical industry, AI and machine learning can speed up time-consuming tasks such as optimising chemical combinations in drugs. In addition, it has become much cheaper to map the genetic make-up of individuals. In so-called precision medicine, treatments are tailored to individual conditions.
Modern surgery uses a lot of robotics, also based on AI. For example, robots can help the surgeon during an ongoing operation, or enlarge the operating area and translate the surgeon's hand movements. Augmented Reality (AR) and Virtual Reality (VR) can also supply enhanced or enlarged images, making it possible to perform operations with better accuracy and fewer incisions. This results in fewer superficial injuries during operations, and thus fewer complications, faster healing and less strain on the health care system.
Assistive technology can greatly improve the lives of people with disabilities. In the future, even artificial eyes for the blind or artificial ears for the deaf may become a reality.
A somewhat more controversial application of AI can be found in the ongoing pandemic. Both China and South Korea used automated facial recognition systems early in the pandemic to analyse the spread of COVID-19. This can of course be regarded as an invasion of privacy, even if the main reason behind such action may be justified.
A new form of printing
Do you need a new heart, a kidney or perhaps a new ovary? In 3D printing, specially designed machines and materials are used to create artificial organs and human tissues. You can also create virtual images of organs, making it easier to provide realistic training for aspiring surgeons.
3D printing is also used in biomedicine. For example, you can design pills that contain several different drugs with varying release times. Together with robotic pills, which can be moved via AI and delivered to the right part of the
The health care of the future
In the future, the above-mentioned technologies will continue to be developed, with more and more areas of application. Mature innovations can be applied more widely, which is especially important in less developed parts of the world, where technology can bring major improvements and create more equitable health care for everyone. Both environmental aspects and social factors are increasingly high on the agenda. This may be a positive driving force for health tech companies in the future.
"Health tech carries a higher risk than the stock market as a whole"
Investing in health tech
Google, Amazon and Apple are among the tech giants that have recently made acquisitions in the health care field. We see this trend as a potential market driver, where acquisition activity may push up health tech share prices.
At the same time, high growth rates and potential are reflected in the valuations of many health tech companies. This undoubtedly means that the health tech field carries much higher risk than the stock market as a whole. For example, if we look at the ROBO Global Healthcare Technology and Innovation Index (HTEC), today 22 out of 50 companies do not make any profit at all. For the remaining 28 companies, the forward-looking price-to-earnings (PE) ratio for 2021 is approximately 63, and for 2022 around 34.
There are many challenges that will need to be addressed. Advanced robotics will require a great deal of training, and the legal framework of health care can be both bureaucratic and complex. There is also a risk that this complexity will increase − given the quantity of different software and services − and doctors may be forced to work in numerous different systems.
The companies that are the most likely to succeed are probably those that create the best solutions to these problems – those that will contribute to scalability and establish future standards. But identifying such companies is not an easy task. Using a thematic index fund, may help you achieve a diversified exposure to health tech with less company-specific risk.
Conclusion
Health tech is a highly attractive field, with justifiably high share valuations. It is far from risk-free. However, its sustainability aspects and acquisition potential are well placed to serve as positive drivers for investors, and in a broader perspective also for the world at large. Given the enormous structural growth potential of health tech, it may offer good opportunities for solid returns to the long-term investor.
Gustaf Blidholm
Economist
Investment Strategy