The Nordic gaming prodigies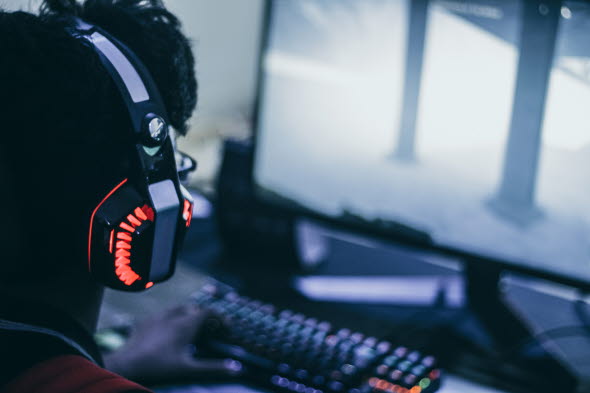 Today the Swedish gaming industry has sales of about 25 billion kronor – about as large as Sweden's exports of iron ore or paper pulp. If we add one-off revenues, their sales are almost as much as the two combined. Successful Swedish companies such as Embracer, Stillfront and Paradox are winners in both the gaming industry and the stock market, which makes them targets for even bigger players that want to grow in the world's most popular entertainment sector.

This is a summary – click here to read a longer article on pages 22-26 of the latest Investment Outlook.
In 2012 the global gaming industry had sales of SEK 480 billion. Today, nearly nine years later, sales are around SEK 1.35 trillion – twice those of the film and music industries combined − with average annual growth of 12 per cent. More than 3.1 billion people play some form of digital game, which means that nearly 40 per cent of the world's population can be considered potential consumers.

Game developers, publishers and distributers
The gaming industry is usually divided into hardware and software. Hardware is the platform used to play the game (console, PC, mobile phone) and software is the actual game. We have chosen to focus here on software. The software segment can be broken down into developers, publishers and distributers, and large companies may be involved in one more or more aspects.
"In Sweden, the number of gaming companies has tripled in seven years"
A game developer, as the term suggests, develops games. The biggest titles may have thousands of people working for a number of years with a multi-billion kronor budget, while the smallest titles may be developed by a single person and take just a few weeks to reach consumers. In Sweden, the number of gaming companies has tripled in just seven years, and the trend looks set to continue. The majority of these new companies are game developers.

In many cases, a publisher acts as a financier to game developers. Since a publisher assumes all or a large share of the financial risk in game development, producers, project managers and digital infrastructure are employed to monitor development and mitigate problems. We find many of the biggest companies, which are often also publicly traded, in this market segment. Size is important to a producer; having more titles is a way to spread risk, but size can also provide economies of scale and in many cases a lower total cost per title.

Distributors have historically been electronics chains and dedicated game retailers, but over the past ten years these have largely been replaced by digital channels. It is lucrative to be a digital distributor but, as with publishers, scale is needed. A distributor's share of revenue is about 30 per cent of the sale price; in return the distributor handles game downloads, updates and returns. Since 2020, Apple and Epic Games have been involved in a bitter battle over their distribution agreement. Apple claims that Epic Games breached this agreement by allowing in-app game sales without users having to go through its App Store.

Swedish gaming companies are mainly game developers and/or publishers. The three largest − Embracer, Stillfront and Paradox − are all primarily publishers today but have their origins in game development. Embracer and Stillfront stand out with their aggressive growth strategy of acquiring game developers, while Paradox has historically been more cautious and has had a larger element of organic growth.
A more detailed look at the figures
Organic growth is affected by the number of game launches, successes in the game portfolio and market growth. Another driver is how much companies spend on acquiring new customers, which may vary from quarter to quarter. According to the analytics firm Newzoo, the global gaming industry grew by 20 per cent in 2020.

Companies have reported that the pandemic has accelerated a change in consumer behaviour that had a positive impact on market growth, creating a tough comparative figure for 2021 growth. There was also a positive trend in both operating margins and earnings for these companies in 2020, except for Paradox, whose costs were adversely affected by higher write-offs for recently launched games and postponed game launches. The operating margin trend was best for the companies that grew the least, Rovio and G5 Entertainment. This indicates that profitability may grow when investment in growth slows or stabilises.
Monetisation and business models
Traditionally, a gaming company finances development, markets and launches a game and generates revenue after the launch. If a company produces a big hit, there is potential for sequels and licensing revenue for films, TV series, toys, clothing and more. Paradox has been successful at building its games as platforms, for which minor updates can be developed and sold to existing customers, extending the economic life of the games. Game add-ons are called downloadable content (DLC) and are often priced in the range of 10-50 per cent of the game's launch price.

For mobile games, the most common model is "free-to-play". Earnings are generated through in-game advertising or by providing an in-app store in which the player is offered the chance to buy in-game advantages or can simply pay to play the game with no advertising. Since the model entails very little commitment from the consumer, it is a matter of keeping the player engaged through constant feedback and gradually increasing the level of difficulty, so that the player continues to generate revenue.

Another alternative is for the player to instead subscribe to the game, which makes for less volatile earnings over time. These models can naturally also be combined to achieve an even more customised solution. Game developers and distributors are devoting more and more resources to analysing their customers' behaviour in order to refine their revenue models and increase earnings.
Acquisitions, the future and Big Tech's entry
The Nordic countries, and Sweden in particular, have a history of creating many successful gaming companies, with the result being a number of major acquisitions. When Microsoft bought Mojang, creators of Minecraft, for SEK 18 billion in 2014, some people were sceptical about the acquisition. But Minecraft had 130 million average monthly players in 2020, which illustrates the potential. The biggest deal to date is Activision Blizzard's purchase of King, creators of Candy Crush, for about SEK 50 billion in 2016.
"In 2020, investments and acquisitions worth SEK 14 billion were carried out in the Swedish gaming market"
In 2019, 46 investments and acquisitions worth SEK 4.5 billion were carried out in the Swedish gaming market, and the figure for 2020 was SEK 14 billion. Through a combination of acquisitions and organic growth, these companies can obtain a larger share of the international gaming market, possibly making them targets for even bigger market players. Companies like Amazon, Google, Apple and Facebook have been trying for years to set up operations in the market. Big Tech has had mixed success in gaming, but it is showing continued interest, which will probably keep growing as fast as the gaming industry.

When we see industry forecasts and analyses, there is no doubt that the future is bright for gaming companies. The COVID-19 pandemic has served as a catalyst for the gaming industry, and 2020 ended up being a record year. Future winners may well be found in Sweden or elsewhere in the Nordic region, but investors should be prepared for high valuation multiples and a focus on growth instead of dividend capacity. There is also a high risk of dilution if/when these companies finance themselves by means of new share issues.
Stefan Cederberg
Equity Analyst
Investment Strategy
Stefan Lukacs
Economist
Investment Strategy