Green is the new black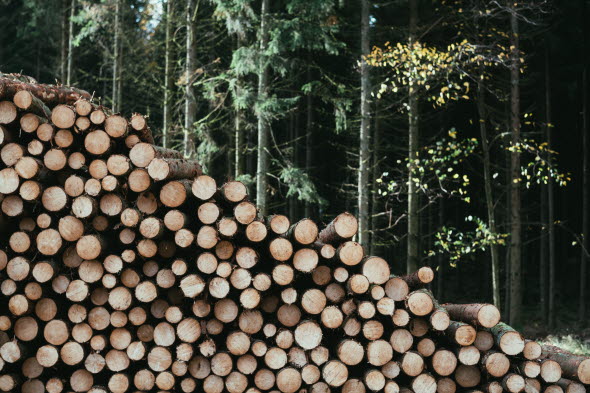 Efforts to build a more sustainable world are intensifying in many places, not least in the European Union, where two important initiatives will be launched over the next year – the Sustainable Finance Disclosure Regulation and the Taxonomy Regulation. Both measures force market participants to make major adjustments, but they only mark a beginning of a large-scale transition to a more sustainable society, which will have a significant impact on financial markets, capital flows and investments.
This is a summary – read a longer article on pages 25-28 of the latest Investment Outlook (pdf)
Over the past five years, the EU has worked with a number of different initiatives to create a more sustainable economy. Among its first measures is the establishment of a classification system for sustainable activities, the EU taxonomy, the first part of which will go into effect at year- end 2021.
"Taxonomy = the art of designing classification systems"
What is the EU taxonomy?
The EU's new taxonomy will enable capital market participants to identify and classify companies from a sustainability perspective. The taxonomy is a new common standard, which reduces the risk of misleading information about investments related to sustainability issues.
The Taxonomy Regulation requires all major companies in the EU to report sales, capital expenditure and operating expenditure in compliance with the regulation. In addition to these companies, financial market institutions will also need to report how large a percentage of their products are sustainable.
How does the taxonomy work?
The taxonomy does not classify a company as such, but instead considers its various economic activities. If the company meets relevant criteria and shows a substantial contribution to the taxonomy's established objectives, it is assigned a percentage that shows how large a proportion of the company's activities are environmentally sustainable according to the EU's definition.
In order for an economic activity to qualify as environmentally sustainable, it must not only substantially contribute to at least one of the six objectives listed below, but must also not significantly harm any of the other objectives. These economic activities must also meet certain minimum requirements for social objectives, such as labour rights and respect for human rights.
The Taxonomy Regulation's six objectives:
Climate change mitigation
Climate change adaptation
Sustainable use and protection of water and marine resources
Transition to a circular economy
Pollution prevention and control
Protection and restoration of biodiversity and ecosystems
"The taxonomy will cover sectors that account for 93.5 per cent of the EU's direct emissions"
Implementation and effects of the taxonomy
The taxonomy will be implemented in several stages. At the start of implementation next year, it will include the first two objectives. From the outset, this will include a number of sectors together accounting for 93.5 per cent of the EU's direct greenhouse gas emissions, according to the Greenhouse Gas Protocol (GHG). The EU has identified some 70 economic activities in these sectors that can make a substantial contribution to climate change. For each activity there is a threshold value defined in order to calculate whether a company's activity meets the objectives.
Activities that have low carbon dioxide emissions are not the only ones to receive a good sustainability rating in the new EU taxonomy. The taxonomy also allows companies in transition to call themselves sustainable by including capital expenditure in their calculations. Companies operating today in a "dirty" industry can thus qualify if they make investments that promote the objectives.
But it is not enough to operate in the right industry, with the right activities. For example, hydropower as such contributes to the objectives − since it can replace fossil fuels − but the taxonomy also takes the industry's entire life cycle into account. There is a threshold value for how much carbon dioxide in total may be produced both in the construction of power plants and their electricity generation. The business must fall below this threshold value in order to qualify as "green".
The gradual introduction of objectives will mean that far from all companies and economic activities will be included in the taxonomy during the first stage. Moreover, for some activities included, there are as yet no threshold values.
"Only some 20 per cent of global listed company sales will be included in the taxonomy's first stage"
Based on our calculations, only about 20 per cent of the sales of global listed companies will be included in the first stage of the taxonomy. Some 2-5 per cent of these sales are estimated to be fully in line with the taxonomy – in other words, are generated from green activities and meet the threshold values set by the EU. This may seem like an alarmingly low figure, but its purpose is to identify the particular operations that can contribute to certain sustainability goals – not to classify the sustainability work of companies in general.
The importance of the taxonomy for investors
For investors, the EU taxonomy represents not just an opportunity to assess an individual equity investment, but to estimate how environmentally sustainable their entire portfolio is. Most portfolios will initially contain a low percentage of businesses considered sustainable under the new taxonomy, but this will increase as the task of implementing the EU's new classification system expands going forward.
The Sustainable Finance Disclosure Regulation
Unlike the taxonomy, which describes the degree of sustainability in a company's economic activities, the Disclosure Regulation concerns the conduct of financial market participants. Its aim is to increase transparency around sustainability work related to financial products and in investment advisory services. The Disclosure Regulation enters into force on March 10, 2021.
Financial market participants and financial advisors will have to disclose information to investors about how they take sustainability-related aspects into account in their processes and products. For example, funds will be classified into three groups, called Article 7, 8 and 9 funds.
Article 7 funds include investments that do not give any particular consideration to sustainability issues. Article 8 funds take sustainability issues into consideration in their management, while investments in Article 9 funds are required to have sustainability as their primary objective.
Some conclusions
Sustainability analysis has become an increasingly crucial element of asset management, although the definitions of "sustainable" leave a great deal of room for interpretation. However, the screening criteria in the EU taxonomy are usually precise and quantifiable, so companies will no longer be able to claim that revenue is "green" if it is not.
Many companies that have already made some progress in the transformation of their activities will gain greater visibility. Over time, these companies will probably have better capital procurement opportunities in financial markets.
Although only a small proportion of listed companies will initially be affected by the new EU regulations, the direction is clear. More stringent requirements will be imposed on sustainability work, reporting and transparency in companies. There will initially be a fair number of questions concerning implementation, including determining threshold values.
We have also already noticed a clear shift among listed companies, especially in our native Sweden. Here, the new EU taxonomy will make a contribution both in terms of clarity and pressure for change. What is happening is now also increasingly apparent to investors. Capital flows are being directed more and more to investments that are characterised as sustainable. Last year, sustainable funds delivered better returns in most cases than the alternatives. Given the strong ambitions in this area, we expect this trend to persist. Also under way is a very widespread conversion of existing funds into sustainable ones.
Sofia Magnér
Johan Hagbarth
Investment Strategy