Summary of the report May 2019
We are in an interesting situation, with shares and corporate bonds priced much higher than a few months ago while economic turmoil has receded. After the last issue of Investment Outlook, we chose to reduce the risk level in our portfolios to a neutral stance, with some overweighting in global equities compared to Swedish equities. In fixed income, we remain overweight in corporate bonds. But greater uncertainty suggests a period of continued large price fluctuations.
How different asset classes have performed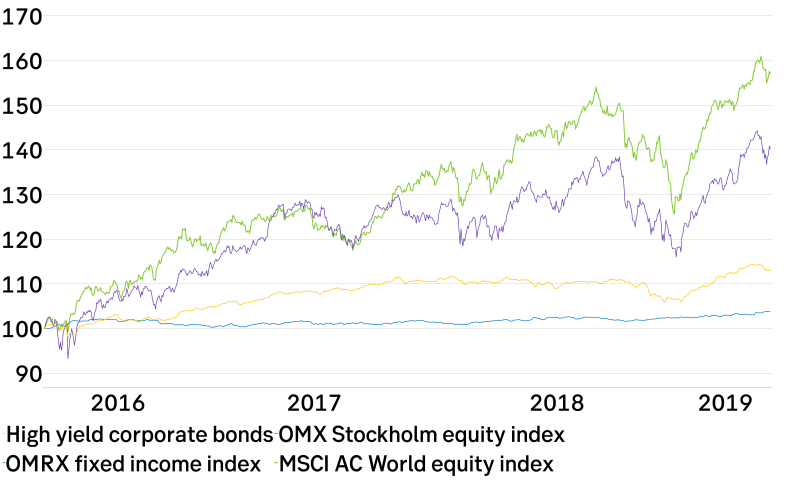 Expected returns, next 12 months
| | | |
| --- | --- | --- |
| Equities | Return | Risk |
| Global equities | 7.3% | 12.6% |
| Emerging market equities | 7.9% | 14.2% |
| Swedish equities | 8.5% | 13.0% |
| Fixed income investments | Return | Risk |
| Government bonds | -1.3% | 1.2% |
| Corporate bonds, investment grade (Europe) | 0.9% | 2.7% |
| Corporate bonds, high yield (Europe) | 3.7% | 3.9% |
| Emerging Market Debt (lokal valuta) | 7.0% | 8.1% |
| Alternative investments | Return | Risk |
| Hedge funds | 3.5% | 6.0% |
Source: SEB
Global equities
Challenging valuations, due to rising prices
Nervousness, risk aversion and falling share prices late in 2018 have been replaced by greater optimism and rising stock markets.
The MSCI All Country World Index in local currencies, including dividends, reached all-time highs in early May.
Share prices have climbed more sharply than earnings. We thus foresee limited potential from current levels.
The quarterly corporate report season has been better than feared. The low earnings expectations have been exceeded.
We are sticking to our forecast of low single-digit growth figures for global earnings.
Fear of American health care reforms has held back the upturn in the health care sector, but valuations are attractive in a long-term perspective.
Nordic equities
Neutral to negative view on Nordic stocks
Risk appetite has increased sharply so far in 2019: risk of a sharp downturn.
China has been a leader in this year's stock market rally, with Nordic companies also climbing.
Big differences in market sentiment between sectors – favouring industrials and convenience goods over forest products, banking and construction. However, we prefer forest products over industrials within cyclical sectors.
Banking shares are being squeezed by worries about money laundering.
Neutral valuations on Nordic stock markets as a whole.
Fixed income investments
Central banks continue stimulus measures
The US Federal Reserve is signalling an unchanged key interest rate in 2019 and 2020.
Sweden's Riksbank will need to postpone its next rate hike until July 2020.
Credit markets are benefiting from the more dovish central bank policy stance.
Economic growth and undervalued currencies will provide support to emerging market bonds.
Alternative investments
Broad stock market upturns will provide support to equity long/short hedge fund strategies with positive net exposure.
Clear trends early in 2019 have generated a recovery for trend-following strategies.
Relatively sharp movements in the bond and foreign exchange markets are leading to mixed performance by macro funds.
Rising stock market volatility should provide return potential for hedge funds.