How to take charge of your savings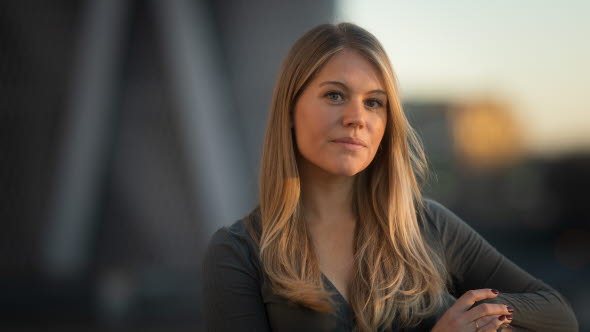 A part of our initiative Financial Equality for a more equal society | På svenska
Start saving on a small scale and begin increasing the amount you save, when you have created a saving behavior. That's what Amie Berglund, personal finance analyst at SEB says. "Making big adjustments right away can too easily become overwhelming and lead to you not saving at all." Further, Amie tells us how she thinks about saving, risk and the importance of an equal personal economy.
Amie started investing in the stock market when she was 20 years old and studying at university.
– I wanted to get a better return on my savings instead of the low interest I had on my savings account. A friend of mine told me the basics of buying and selling securities and I chose to buy my first shares with money I received as a birthday present. As the money grew, so did the interest. During her studies, she worked extra and was able to save her salary, while she lived on student funds.
– I could then use that savings as a cash deposit for my first apartment.
She believes that the stock market today is for everyone and that anyone who wants to, can start investing.
– That the stock exchange would only be for a certain type of person is an outdated image. Maybe that was the case before the internet existed and you had to have a contact person at the bank to make a purchase. Today, as a rule, you can handle everything yourself. What you should keep in mind, however, is that just as money can increase in value, it can also lose value. A good rule of thumb is therefore to only invest money in the stock market that you can afford to live without.
Saving is a given
Amie tells us that she puts aside part of her salary for various types of savings, both with a long- and short-time horizon.
– Once you have acquired a saving behavior, it becomes easy, to continue saving. While I save long-term on the stock market, for example for my future salary in the form of a pension, I save in parallel for short-term goals such as a holiday trip and the likes.
How she sets up her savings depends on what the total risk level looks like. That is to say not just the savings in shares and funds.
– As I see it, money in my account and paying off my mortgage are also included in the total saving. In addition, I know that I receive money every month in the form of a salary, and I also include this in the overall picture. Therefore, I tend to take more risk in my stock market savings than I would have if I didn't have the other parts in place.
Amie also highlights the importance of first and foremost making sure you have a buffer before you start investing.
– Then you have an airbag if something were to happen and you don't have to worry if the dishwasher suddenly breaks or if you need to take your dog to the vet. This money should be readily available and is better suited in a savings account than on the stock market.
Difficult to start saving
The statistics show that men generally save more and own more. There are some historical explanations for this – that in the past it was men who earned money and who received most or all of the inheritance. Today things are going in the right direction, but there are still many women who say that they don't know how to start and that it is difficult to get started.
Then the savings continues without you having to do anything. It can also help to have a concrete goal in mind, so you know what you are saving for or for whom. If you don't have a concrete goal, a certain amount can be the goal. For example, having SEK 100,000 in the bank can give you a nice sense of freedom and make you less vulnerable.
Saving for housing, or a SEK 100,000 goal, can of course feel overwhelming, but then you can set milestones and see what is reasonable based on your own circumstances.
– In my experience, many people have an image that you have to save a large amount of money every month, otherwise you might as well ignore it. But the best saving is still the one that actually occur. A small step in the right direction still means that you are closer to your goal than if you remain at square one. It is usually easier to increase savings as you have acquired a saving behavior than to set the bar too high from the start.
Amie also emphasizes the importance of working for an equal personal economy.
– Although most things are going in the right direction, women still generally earn less than men. They also take more parental leave, take care of sick children more often and work part-time to a greater extent. If it is not possible to share kids sick days and parental leave equally, the one who is at home during the childhood years should be compensated in some way, for example through a saving that is protected by a prenuptial agreement, should you one day go your separate ways.